Home Page
Goodearl Bros
Risboro' Furniture
The Sawmill
Goodearl-Risboro'
GOODEARL-RISBORO' LTD
The story of a Buckinghamshire furniture company.
From its beginnings in 1870 until closure in 2001
and its rebirth as whiteleaf ltd.


Part 1:

Risboro' Furniture Ltd.

Expansion on a new site.




Mostly taken from an account by WMG.
With further information from L.J.Mayes book:
'The History of Chairmaking in High Wycombe'.
Additional research by Mr. Ken Goodearl.



Risboro' Furniture Ltd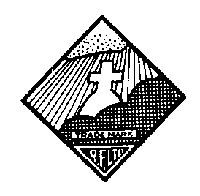 Princes Risborough
Bucks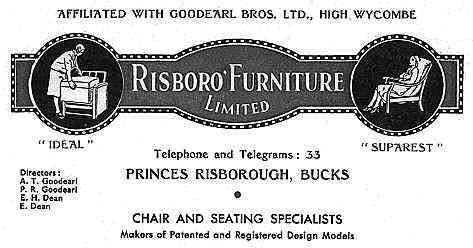 The Risborough Unit was started in 1920. Chair parts were assembled and finished in the old 'British School' at the junction of Wycombe Road and Station Approach.

Demand was increasing and in August 1920, a site by the Railway Station was purchased and building commenced to house machinery and assembly facilities. Power was provided by Robey 'Portable' Steam Engines.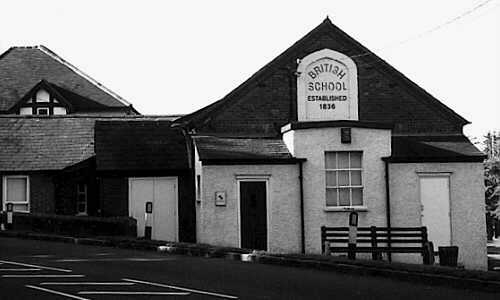 During this period, Albert and Percy were joined by Ernest Dean and Harold Dean. The latter being married to Edith, Percy's sister. The Company at Risborough was styled Goodearl, Dean and Co. but on 14th January 1924 the name was changed and incorporated as Risboro' Furniture Ltd.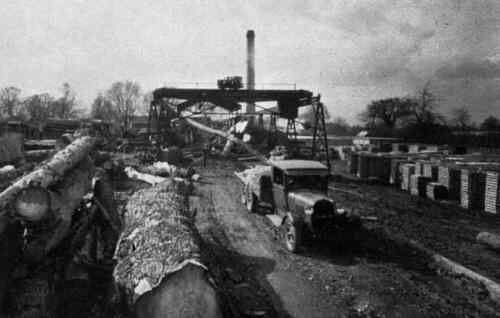 The Sawmill had a long overhead crane gantry. The Picts Lane end was where timber delivered by road was unloaded and stored.




By 1924 further land had been acquired making the site up to approximately ten acres. A modern Sawmill with a 250 HP Marshall Steam Engine, travelling overhead gantry crane and railway sidings were established.

By 1930 a new factory had been built on the Risborough site. The main Factory buildings were single storey, apart from the brick faced Office block and the two shops behind. Natural lighting was provided by a partly glazed roof on the 'northern light' principle.




Improvements and expansion continued and the Corduroy covered, flock or spring filled, loose cushion Adjustable Chair became the major product.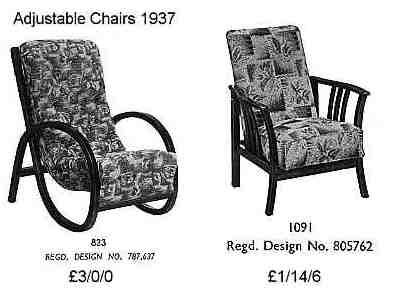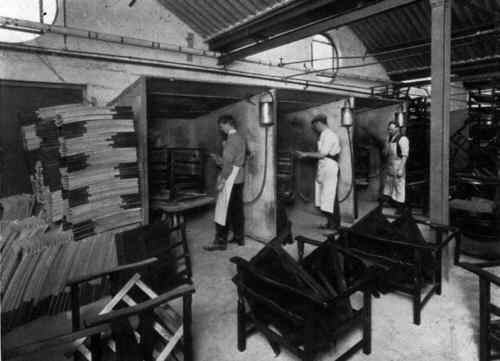 Production in the 1930's. Spray Polishing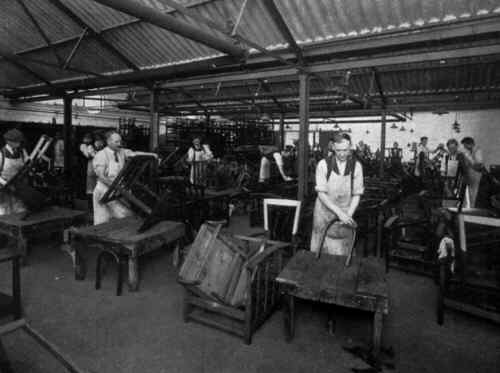 French Polishing Shop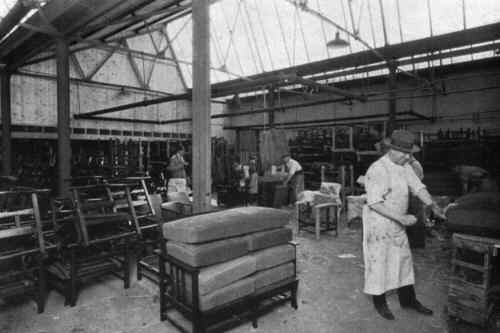 The Packing Department



Bed Chairs proved popular, from before the war up until the late 1960's. These illustrations featured on the Company stationery, and were taken from a letter was dated 1940.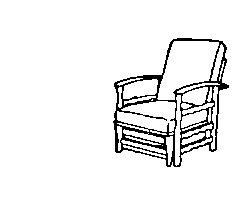 Meanwhile in Wycombe, high quality chairs and some tables and sideboards were achieving a measure of success, with A.E.Barnes being responsible for many of the original designs.

In September 1926, Max, the eldest of Percy's three sons started work at the Risborough Sawmill.
By 1930, trading conditions had become more difficult. To strengthen the two separate companies, which were virtually controlled by Albert at Wycombe and Percy at Risborough, and were pursuing separate policies, it was decided to merge.

In October of that year, Richard, their father died aged 87.

In 1931 Goodearl Brothers Ltd acquired the shares of Risboro' Furniture Ltd. The directors were A.T and P.R.Goodearl, E. and E.H.Dean with A.E.Barnes as Chairman.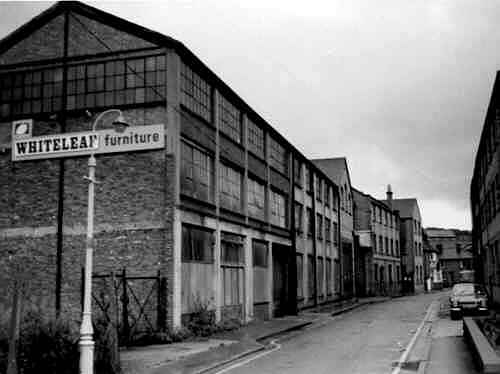 Mendy Street Factory in 1974
From this period improvements at both factories continued, but with expansion at Wycombe being limited by space.

In 1934, the 'Peacock' Public House, which adjoined the works in Mendy Street, was acquired and a new Showroom block built on its site.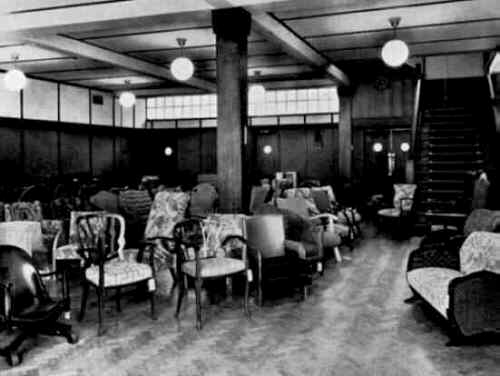 The Goodearl Bros. Showroom at the Mendy Street Factory in 1937
1936 saw the retirement of A.E.Barnes and A.T.Goodearl, when P.R. Goodearl became chairman and Max Goodearl was moved to manage the Mendy Street end. Alan, Percy's second son started work in 1938.

In 1937 the retail price for the 4087 was £2 16s 6d
and the 4085 was £2 15s 0d.



---
The outbreak of War in 1939 saw the factory at Risborough requisitioned by the Ministry of Aircraft Production (Phillips & Powis Aircraft Ltd), leaving only the Sawmill in operation.

Half the area at Mendy Street was also requisitioned for storage. The limited production of chairs for the various Ministries and other wooden wartime needs were sufficient to hold the much reduced labour force together until hostilities ceased.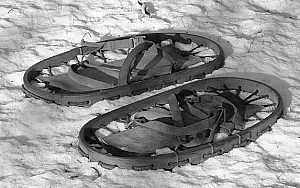 A Wartime product:
Goodearl Bros Snow Shoes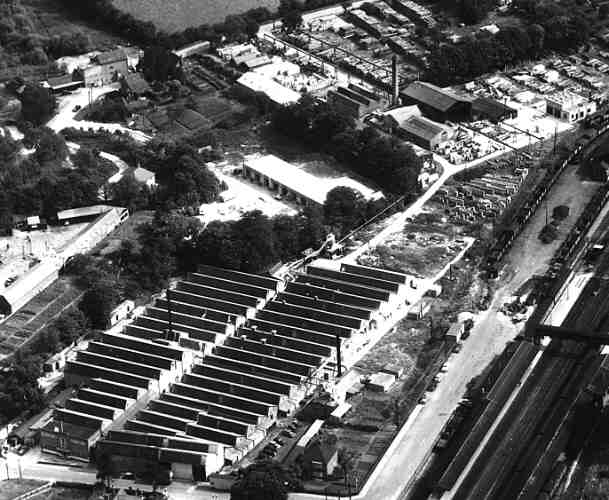 The Risborough Site in 1956
In the immediate post war period, the two companies were successful in being designated to produce Utility dining chairs and upholstered easy chairs. E.L.Clinch, who had joined the company design staff in 1932, played a large part on the committee set up by the Board of Trade for the designing of Utility furniture.

With the War over, de-requisitioning took place and the major task now was to re-establish the Risborough factory, where little of its wartime operations were any longer of value. New machinery had to be acquired and new layouts planned. E.E.Hain who had started in 1931 as a cost clerk, rejoined the company after a wartime absence, and together with Alan, they took charge of the re-commencement of production at Risborough.

Output proceeded to expand in spite of the difficulties of timber rationing, and every effort was made to utilise materials in plentiful supply. One successful range embodied diecast aluminium chair parts, another, extruded aluminium sections and laminated plastics. These led to a more diversified production and a large range of Plastics surfaced tables that found a ready market.

Max was elected to the Board of Directors in 1942, followed by the addition of E.L.Clinch in 1944. Ronald, Percy's third son, started work with the company in 1947.

Having, by this time, successfully established a range of tables in the kitchen departments of many stores, a range of kitchen units was introduced to supplement them.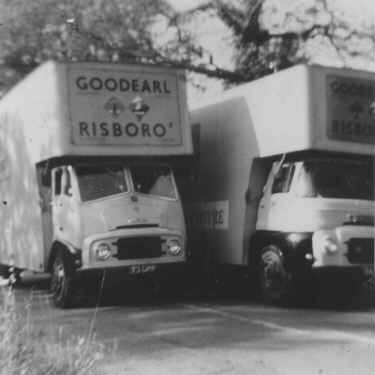 In 1953 Alan and E.E.Hain joined the Board making seven in all, with Percy as Chairman.

In 1955 Ernest Dean, who had been Secretary, died and S.V.Goodchild, who had started in the office in 1930, and had 'grown up' under E.Dean's tuition, took over his role. Ronald was elected to the Board in 1958.

A new machine shop was built at Risborough in 1958. This greatly increased efficiency by enabling all machined parts to be produced under one roof. It also permitted a new kitchen cabinet assembly and finishing operation to be established at Wycombe.

In 1959 E.H.Dean passed away after being in failing health for some time.
Progress was such that it became necessary to extend one or other of the companies facilities each year. Before his death in 1965, Percy was able to see that while a considerable part of the large site, which he had had the foresight to acquire, was now employed as a successful furniture factory, there was still space for future developments.

Max succeeded Percy as Chairman, and in 1966 S.V.Goodchild was invited to join the board.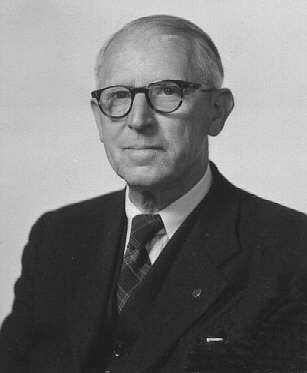 Mr Percy Goodearl, 1954



---

The Mendy Street Factory shortly before its closure.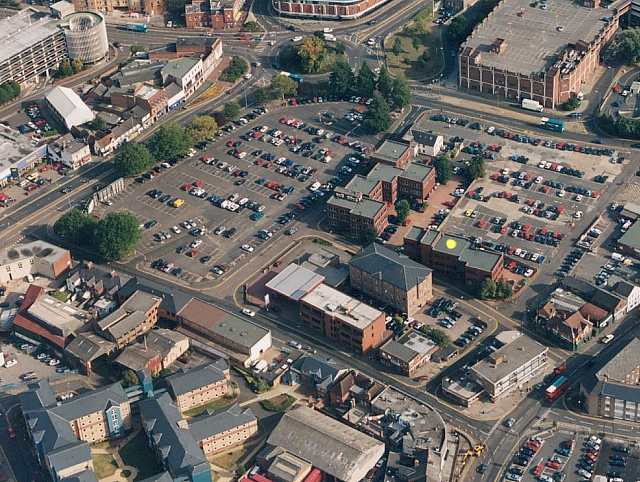 The Newlands area in 2003. Oxford Road is top left, Bridge St. joins Desborough Road bottom right. The yellow spot marks the position of the Factory in Mendy Street.
(Photo courtesy Wycombe District Council).