Home Page
Goodearl Bros
Risboro' Furniture
The Sawmill
Goodearl-Risboro'
GOODEARL-RISBORO' LTD
The story of a Buckinghamshire furniture company.
From its beginnings in 1870 until closure in 2001
and its rebirth as whiteleaf ltd.


Part 1:

Goodearl Brothers Ltd.

The beginnings in High Wycombe.




Mostly taken from an account by WMG.
With further information from L.J.Mayes book:
'The History of Chairmaking in High Wycombe'.
Additional research by Mr. Ken Goodearl.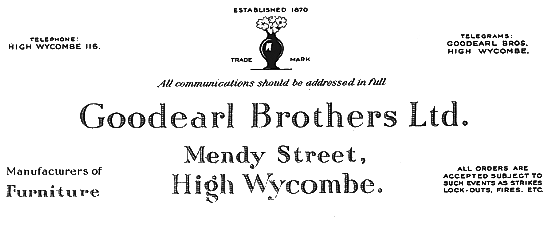 WILLIAM GOODEARL, born in 1811, was a Windsor Chair maker and commenced business on his own account in 1870 at premises in Dovehouse Mead, High Wycombe. By 1875 he was listed in a local directory as a Chair Manufacturer at West End Road.

Four of his sons, Henry (b.1838), Richard (b.1843), Benjamin (b.1849) and Arthur (b.1851) were all working within the furniture trade. Henry, at Dovehouse Mead, was a cane seat framer. Richard at 7 Water Lane, Newland. Benjamin, a benchman, was at 11 Oxford Road. Arthur at 20 Mendy Street was also a cane seat framer.

By 1887, the brothers appear to have joined forces at Mendy Street and during the next decade strengthened their position as High Wycombe chair manufacturers.

In 1894 Richard Goodearl was Mayor of High Wycombe.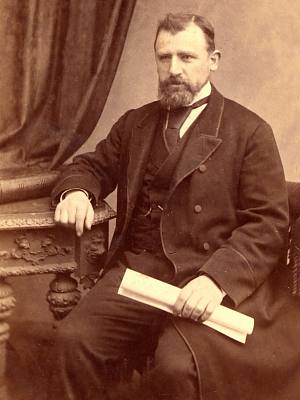 Richard Goodearl
By J.P.Starling,
Artist & Photographer
Frogmore Studio,
Frogmore Gardens, High Wycombe.




1903 saw A.E.Barnes joining the company as a carver. He was to play an important role in the Company as a designer, and eventually became its Chairman.

At this time machinery was being introduced to an ever increasing extent. A Timber Yard and Sawmill were working, and other factories were also being supplied with plank and sawn parts.

Richard became head of the firm, with two of his sons, Albert and Percy, working with him. The eldest son, George, had emigrated to Australia and was manufacturing bedding in Sydney after a short time of importing furniture from Wycombe.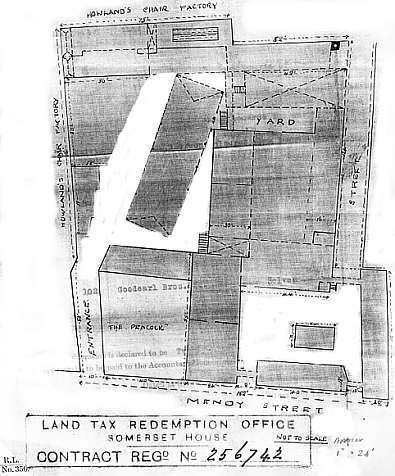 A plan of the Mendy Street site in 1930.
In 1907, the firm became incorporated as Goodearl Brothers Ltd.

By 1914 a wide range of windsor chairs, cane seat chairs, upholstered 7 piece suites etc. were being made in quantities. They were mainly sold in London, being transported there by horse and van.

A display panel in the Wycombe Chair Museum says that the return journey took 36 hours, the wagons often travelling in convoy through the night. Only the lead driver needed to be awake.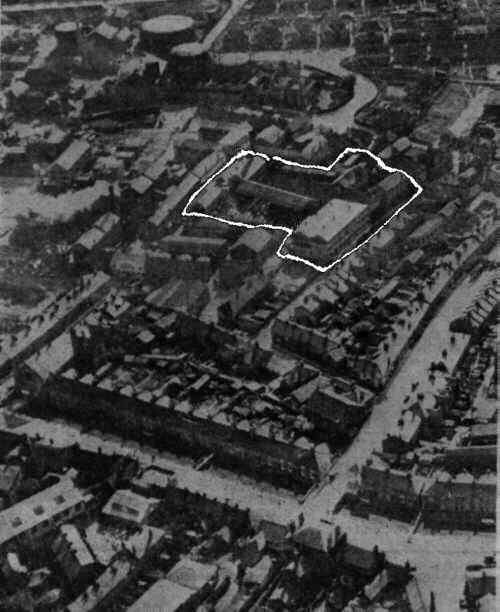 An aerial view of High Wycombe in the 1950's.

The Mendy Street Factory is outlined in white.

Crossing from left to right is the A40 London to Oxford road with the River Wye running along side, in front of the houses - Remington Terrace.

Bridge Street leads up the picture to the right.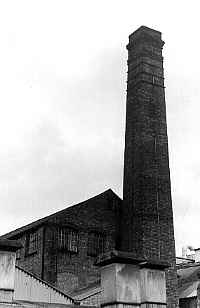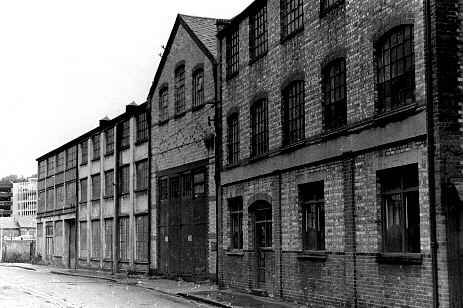 The Mendy Street factory shortly before it was sold.
Early in 1915 a former mill at Navan in County Meath, Ireland was bought and equipped as a sawmill and chair factory. It was managed by Percy with Wilfred Dean and employed about 70 men and boys.


Athlumney Mill was half a mile downstream from Navan beside the Boyne Canal and built as a flax mill. Though immediately before the Company took it over, it was being used by the Navan Bacon Factory Ltd. The building was later used as a corn mill, but after falling into a dangerous state, it was demolished in the mid 1970's.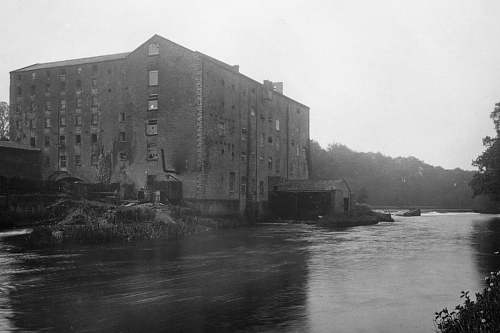 Staff photo: Percy is on the extreme right, Wilfred Dean on the extreme left. Next to Percy is Albert Matthews with his young son. He was a former employee in England, where he returned after the Navan factory closed, and worked at the Risborough Sawmill until he retired. His son later worked as a cabinet maker for the Company.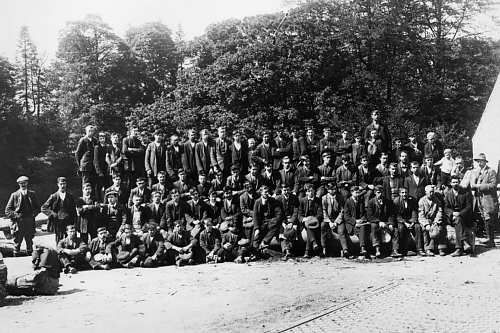 The same range of chairs was being produced there, and during the War great quantities of tent-pegs and other wooden products were made.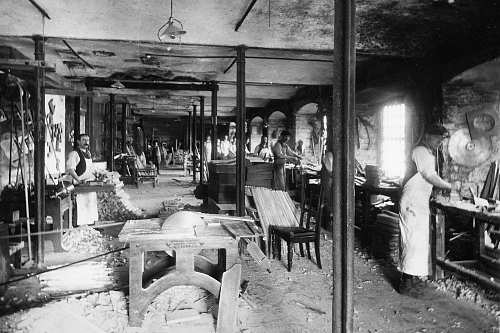 In March 1919, with civil unrest becoming increasingly violent, the factory was shut down and the family moved back to High Wycombe.