Goodearl Methodists in the Chilterns
It has been said that in the first half of the 20th century, if one entered any Methodist chapel in the Wycombe area and said 'Stand up the Goodearls', someone would get up. Although not strictly true, perusal of the 400 page book "250 years of Chiltern Methodism" by B.P.Sutcliffe and D.C.Church demonstrates that it is almost true. In this note, apart from the section on our ancestor William, all references are from the book, so page numbers are given. The order is by generation with members of individual families in order of seniority.
Ancestor William
William was born in Bradenham in 1811 and baptised in the church of St. Botolph where he was married in 1834. Marriages in Wesleyan chapels were not legal until 1858 so if William was a Wesleyan in 1834 he would have to be married in an Anglican church. His father George was an Anglican as he was parish clerk in Bradenham until his death at the age of 82 in 1862. William was a chairmaker and probably worked at first for John Dover at his small workshop at the "Red Lion" in the village. Unfortunately the first reference to William appears to be incorrect as it says: '1823 Lane End Methodists linked with Wycombe Wesleyan Circuit. James Bird, William Goodearl and James Plumridge prominent ' (p89). as William was only 12 at the time, the reference is more likely to the next item: '1834 first Methodist church erected near Weir Pond' (p89), or possibly '1841 Church enlarged by raising roof and adding gallery'.
We don't know where William lived in 1834 after his marriage. The St. Mary St. High Wycombe baptism records for his first two children give: '
29-1-1835 Mary Ann - William a Chairmaker of West Wycombe
14-7-1836 George - William of High Wycombe
However on 28-8-1838 for Henry's entry, this time in the Circuit records, the address was Lane End, where the family lived for about 30 years thereafter.
Now Lane End was originally in 4 different parishes so perhaps they lived in the West Wycombe side of the village initially before moving to the Marlow side. The entry for George may also be a slip of the pen.
If William was involved in the building of the first church in 1834 he must have lived there before his marriage. He was a foreman for James Jarvis of Lane End for several years before about 1843 and as the book tells us that Wesleyans were employed at Jarvis's in 1825 (p82) it is possible that he came to work at Jarvis's as a young man and was converted then. Alternatively there were cottage services in Bradenham before 1837 (p23) although a chapel was never built.
He was a local preacher from 1841 until 1889 (p33). The other references are to foundation stones at Bledlow Ridge, 1887, and Booker, 1886 (p358).
1st Generation: Henry and Richard
Both are recorded as trustees of Victoria Street in 1885 (p48). Henry's name appears on the Sunday School stone at Bledlow Ridge, 1887, (p358) and at Marlow (p370) for the Circuit Sunday schools in 1900. His wife's name appears at Amersham in 1899 (p357) together with his sister-in-law Mrs B.Goodearl.
Richard was a local preacher from 1862 until his death in 1930 (p34). Other entries are: Practical help in planning the building of Bourne End chapel came from Richard Goodearl 1910. (p136) 27-6-1914:Winchmore Hill: A Bible etc. were presented by Mr.R.Goodearl, the oldest preacher. (p53)
On 12-10-1926 the opening of the new schoolroom at Prestwood took place and Mr.R.Goodearl took part. (p112).
14-9-1929 At Wesley: Mr.R.Goodearl urges importance of prayer meetings. (p58)
14-6-1930 Circuit meeting: Mr.R.Goodearl brings message of goodwill from Vicar of Penn. (p59)
10-12-1930 Circuit meeting: death of Richard Goodearl great loss. (p59) Early 1900's Bryants Bottom: Three Sargents and three Goodearls (probably Richard, Walter and Stephen) walked from Wycombe. All were 'Saints of God'. (p207)
Foundation stones laid by Richard are at: Bledlow Ridge 1887, Bourne End 1910, Marlow 1900, Naphill 1930 ('Others who took part included the ex-mayor of High Wycombe, Richard Goodearl, a local preacher of 70 years'), Flackwell Heath 1883, Holmer Green 1912.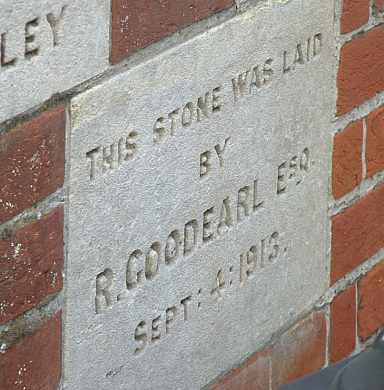 Bledlow Chapel. The stone being to the left of the main door.
2nd Generation
With one exception all those named in the book are the children of Arthur and Elizabeth. The picture on p17 of the Wesley centenary celebrations in 1966 shows Mrs Jo. Goodearl, Henry's daughter-in-law. (Jo. died in 1953.)
Walter became a local preacher in 1906 (p36). Page 289 shows that he continued until 1954 but may not have been very active after the War. His photo appears on p286 and p271 records his death in 1956.
Minnie (Cant) p248: 'At Newland there were warm-hearted people like Alf and Minnie Cant'.
Stephen was a local preacher (Primitive) from 1908 until his death in 1963 (p159, p289). His photo is on p287 and his funeral on July 1st 1963 was one of the first services at Deeds Grove. (p321)
Tom (O.T.G) was a Sunday School teacher at Victoria St. and his wife Edith ran the Primary for many years (p124). At the Circuit Meeting on Mar 11th 1922, he presented Temperance returns which were not at all flattering. (p56) He is referred to on p260 as a steward at Victoria Street.
Harold was a local preacher from 1921 until 1973 (p37, p289). On March 14th 1925 he reported at the Circuit Meeting an increase of two in the number of Bands of Hope. (p58) He was steward at Bourne End on Jan 18th 1942 and was the first preacher at St. Mark's in 1959. (p272)
2nd and 3rd Generation
A plaque on the Wesley organ after rebuilding in 1922 commemorates those who fell in the Great War including Benjamin's youngest son Rupert Victor (from Canada) and oldest grandson Clifford James. Both were killed at Ypres. (p123)

More about Clifford and Rupert
3rd Generation
All references are to Walter's children, starting with Leslie and Doris at Sands (p220) then Mrs Dean (Nora) at Castlefield. (p306) Monica's husband D.S.Howard was a local preacher from 1935 to 1974 (p261, p290) and is referred to at Castlefield on p307.
Hilderic was chapel steward and treasurer at Castlefield in 1954 (p307) and was steward in 1987. (p281) He has written a chapter on Castlefield and a note on the Goodearl family (p330) which is a postscript to this summary.
Alan has nearly as many entries as Richard. He was 'on trial' as a local preacher in 1937 (p261, p291) and p296 states 'The preacher who has served in the Circuit for the longest time and continues to serve (in 1988) is Alan Goodearl: 49 years. In 1948 he was 'Migration Secretary" (He is to keep in touch with young people who leave home) (p267). On Oct 4th 1959 he conducted the last service at London Road (p272) and was among the helpers from other churches at Castlefield (p307). When he moved to Bourne End he became one of the 'own preachers' at the chapel there (p281).
He has written the chapter on Bourne End (p135-137) and reminisces on the 1934 Methodist Union (p253-255). His final entry on p329 is 'Wilf Osborne began to feel rather inferior as he saw all his new preachers coming on to the plan with letters after their names. His good spirits revived however when he realised that he too was a 'B.A' - 'Born Again'!
Jo is referred to on p74 as Poor Steward at Wesley in 1950 and Ivan on p308 as conductor of the Junior Choir at Castlefield.
4th Generation
There only appear to be two references although there may be others through the female line. Edna (Tonks) wrote the paragraphs on Sands (p220/1) and Avril was 'on trial' in 1951 probably when she was at university.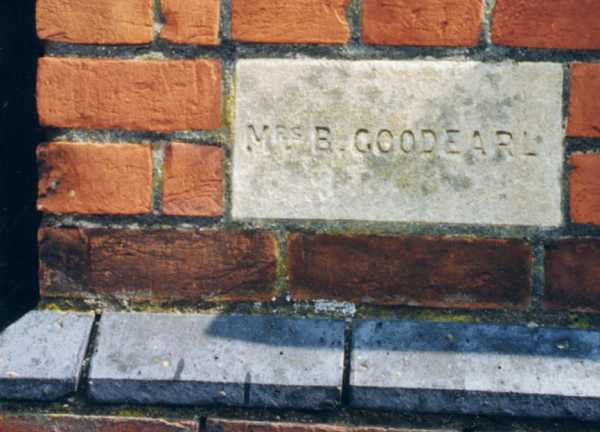 One of the two Foundation Stones laid by Mrs.Benjamin & Mrs.Henry Goodearl at Amersham Chapel.
Photo: Mr Don Goodearl, New Hampshire.
---
Hilderic's Roll-call of Goodearl Methodists.
Ivan - member of Wesley and Castlefield
Margaret (Ivan's wife) - organist at Castlefield
Alan - local preacher - member at Bourne End
Leslie - member at Wesley, Sands and Castlefield
Edna (Tonks) - member at Sands and Castlefield
Nora (Dean) - member at Wesley and Castlefield
Joe - member at Wesley and The Pastures
Bessie - member at Wesley
Monica (Howard) - member at Wesley, Sands and Castlefield
Stan Howard - local preacher, member at Sands
Peter Howard - local preacher, member at Castlefield
Walter - local preacher, member at Wesley
Sarah - member at Wesley
Minnie (Cant) - member at Wesley, Victoria Street and Castlefield
Tom - member at Victoria Street and St. Marks
Steve - local preacher, member at Westbourne Street
Harold - local preacher, member at Bourne End
Ben - member at Victoria Street
Joseph Edward and Family - members at Wesley
Leonard and Family - members at Wesley
Vic Cartwright (Fanny's husband) - organist at Newland and Victoria Street
Richard - local preacher and member at Wesley
Hilderic - member at Wesley and at Castlefield where he was steward.
...To name but a few!
---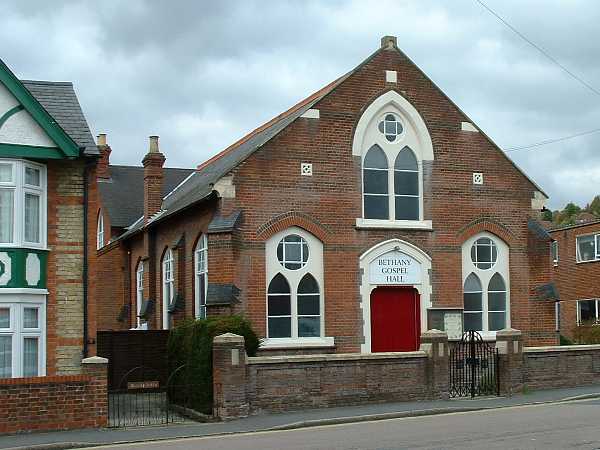 Victoria Street Chapel, High Wycombe.
Wesleyan Methodist Church High Wycombe Circuit.
Leaflet in PDF format. VERY large file - 4mb.
'Public Services and Class Meetings with Circuit Directory. 20 Oct 1907 - 16 Jan 1908'
March 2004
K.A.Goodearl
Chorleywood
U.K.
---