In the 21st.century family research - especially if only back to 1837 - is relatively easy with the number of web-sites now available, and for those fortunate enough to have ancestors in Bucks for a few centuries, the excellent Bucks FHS data-base.
However, only a few decades ago research was much more difficult as my notes on tracing my ancestral family of the Goodearls show.
It all started in 1980 when a friend in Exeter asked me to check at Somerset House the Will of a parson of a village in Cornwall as there was a dispute about some land. For this I had to obtain the date of his death from St.Catherine's House in the Aldwych. While I was there I thought I would look at the early volumes of birth records to see if I could spot any ancestors. I was surprised to find only a few Goodearls in the 1837-1847 volumes so went back the next day to look at 1848-1858. These early books were hand-written in beautiful copper-plate writing, but weighed about 22 lbs.each, so lifting them from the shelves to a viewing desk was quite tiring. Most of the entries were either for Bucks or Kent so I was immediately 'hooked' and then made 4 visits to Somerset House to study any family wills from 1857-1979.
It was very fortunate that I worked in Westminster and could go by train in 5 minutes from Victoria to Temple in the lunch hour. As we were on Flexitime I took an extra hour or so on these visits which was booked as annual leave.
Having established the name distribution in the mid-19th.century I spent a couple of hours at Chorleywood Library scanning all the English phone directories and writing down all appropriate Goodearl addresses. They were nearly all in High Wycombe, Princes Risborough or Chatham in Kent. I wrote to all addresses and all the Bucks ones replied, but only half the Kent ones, although my English name-sake did. These contacts were very useful. One address in Guildford was of Reg, the son of Rupert Victor, my Dad's first cousin, who emigrated with his family to Canada in about 1912, but was killed in WW1 in Belgium in 1917. Reg came over with the Canadian Army in WW2, met Mary, married her and stayed on. So I obtained the full details of the Canadian family - who all moved to the USA later.
Then a chat with my father, then aged 92, revealed that his grand-parents came from Bradenham, so off to the County Record Office at Aylesbury where I studied the original Bradenham Parish Registers (burials only pre-1812) and found my direct ancestors back to Richard Goodall and Ann Atkins who were married there in 1778. I also discovered the pre-1837 High Wycombe Wesleyan Circuit Christening register and found gt.aunt Mary and gt.uncle George. I didn't realise it at the time, but the fact that virtually all the Bucks family from 1834 onwards were Methodists meant that they rarely appeared in Parish Registers, which made detailed research somewhat difficult. While at Aylesbury I looked through the Bradenham, Lane End and High Wycombe census returns for 1851, 1861 & 1871 and found where the families were living, although some of the teenage girls were away 'in service' and it took later many hours scouring the returns for local villages until I could locate some of them.
So off to St.Cat's twice a week through the Summer to cover all the BMD volumes up to 1979. Fortunately later ones were typed and only weighed some 11 lbs.each!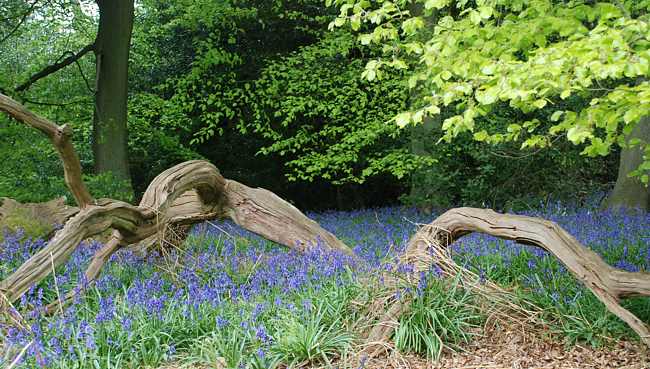 Bluebells in Bradenham Woods
Having several hundred names, the next stage was to find the birth dates of the wives which took another dozen visits. Of course all these entries gave only the quarter of the year in which the event was registered, but the responses from relatives produced some exact dates.
The next series of 24 lunch-time visits was to see the census records on micro-film in Portugal St. near St.Cat's.House. This was very time-consuming as initially one had to queue for some 20 minutes until a scanner was available, then fill in an application form for the reel required and wait another 10 minutes for a clerk to get it for you. So half-an-hour to get started!
Finding the Bucks.families was quite easy as the BMD records indicated the areas to be searched, and the Kent people mostly stayed in Tenterden, but gt.-uncle Alfred went to Bolton, gt.-uncle George to Shoreditch and gt.gt.-uncles Henry and Alfred to London, with Henry's son going to Brighton, so those were more difficult. It took 6 visits to find George in Shoreditch in 1871! I didn't ever find Alfred's family in Bolton in 1881 as I think theirs was the only newly-built house in the road and the enumerator missed it.
Having ascertained that the Bradenham burials register from 1812 was still in use I arranged to visit the vicarage at West Wycombe and looked for Goodearl burials in the original register. I found 21 from 1819 to 1946 including 6 of the London families. 4 consecutive burials in 1847/48 were :- Maria D'Israeli, Ann Goodearl, Isaac D'Israeli and William Mead Goodearl. On a later visit I transcribed all the burials from 1812-1851 on behalf of the Bucks FHS. An interesting one on Aug.24th.1821 was of William Thomas Horatio Nile Nelson Hicks.
Now as all my Victorian ancestors were Wesleyan Methodists and strictly teetotal, and as gt.-uncle George was said to have liked his alcohol he left Bucks and went to London and later to Liverpool 'to wait for a ship to America'. He sailed to Boston with his second wife, 3 sons and a daughter in about 1875. My parents had kept in touch with one of his descendants and I contacted Cousin Jessica in Arizona who referred me to Ralph in Connecticut who had drafted a rough tree of the American family. There were dozens of them as George's 3 sons were good Victorians and had large families. I wrote to many of these people and had a good response. At about the same time I was given 2 Australian addresses so got all the details from Oz and NZ.
This prompted further overseas research so my lunchtime visits were to the Central Westminster Library where world-wide telephone directories were kept. I concentrated on Canada, USA, Australia and NZ, but really only skimmed the surface. The trouble with the USA directories is that virtually every town (they call them cities) has their own and many books have to be searched to cover a smallish area. However I found several Goodearles in the USA and Canada. These were from the Kent family who took an 'E' with their name and some of them provided family details.
Having hundreds of names with approximate dates of events it was time to start searching some parish registers in the hope of finding some non-Wesleyan entries. Many registers were held at the GLC building on the South Bank and several lunch-time visits produced a few dates for London events. For the Holborn registers I went several times to the Swiss Cottage Library, close to the Bakerloo Line on my way home and found some baptisms of gt/gt uncle Alfred's family.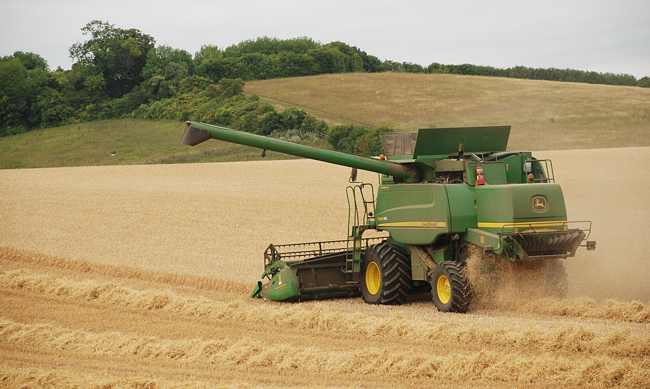 Harvesting near Bradenham
As I had a business visit to Ashford in Kent in August 1981 I decided to break the journey at Maidstone and do some research at the Records Office for the Kent Goodearls and my Mother's Millbourn ancestors who were from that area. I found dozens of Goodales, Goodalls and Goodearls in the Tenterden registers and was able to produce a tree back to the mid-17th. century with the link to the Canadian and USA families. I found a Richard baptised in April 1740 which I thought must be my ancestor who married at Bradenham in 1778 and was thus my missing link. I found that the Kent people settled on the spelling of Goodearl (with the extra E later) in 1778 whereas in Bradenham the change took place some 30 years later. As the original name GOODALE referred to a successful beer-maker I thought, tongue in cheek, that my teetotal Wesleyan ancestors wouldn't like it and so changed to something better! I was then able to link these early dates to my hundreds of dates from the BMD registers giving a comprehensive Kent family tree.
I only studied baptisms and marriages on the first visit to Maidstone, but in December I covered the burials and, to my horror, found that my supposed ancestor Richard had died at the age of 8 months, so back to the drawing board!
It was then clear that the Kent family was not related to our Bucks people in any way and thereon my interest in them was purely academic.
Then I had the breakthrough I needed. I heard from the cousins in Connecticut that their son - my American namesake Prof. Ken Goodearl - who was then working in Salt Lake City, had obtained 'hot from the IGI press' the date of a marriage in 1745 in Long Crendon of Richard Goodhall and Sarah Smith. So off to Aylesbury where fortunately the Long Crendon Registers had been transcribed and printed, so I was able to find my Richard (junr.) baptised there in 1747 and some other members of the family. Unfortunately a search through the registers of nearby parishes didn't give me any earlier ancestors, but 20 years later I got back another 6 generations.
At about this time my sister found the Golden Wedding photo of 1884 of our gt.-grand-parents showing 40 of their descendants and their spouses. Apart from those overseas and the younger ones from Bolton almost the entire family was there and my father could identify all except a few of the babies.
So it was time to draw the family tree which I drew in my smallest writing on a scroll of wallpaper 14 feet wide showing all known worldwide descendants of Richard & Sarah born as Goodalls or Goodearls with their spouses. All done without the single purchase of a BMD certificate!
For the next 9 years I made very little progress except adding the more recent dates from St.Catherine's House. Then at a visit to the Records Office I studied the Bradenham Tithe Map and found the cottage where the ancestors lived from about 1778. It is still there.
Soon after this our son moved across the Atlantic to work at the Harvard Medical School in Boston so on our first few visits I visited the Commonwealth Institute in Boston to search their BMD records for the many Massachusetts Goodearl family from 1880 onwards. The more recent records were held in a different building in Tremont St. and there one had to pay to view, so I had to make my very first payment for information - $3 for an hour! However, I then had almost complete details of the first two generations of the American family.
The phone rang on May 2nd.1997 and an American voice said,"I hear you have a family tree - I have a computer program(me) so why don't we get together and produce a write-up?" After a hectic month of photocopying, mailing and phone calls he produced the first draft of 52 mini-trees to which we added a 'Register Report' giving extra information such as occupations given in census returns. Between us we contacted all but one of the living Goodearls of our family and obtained up-to-date details and addresses and phone numbers. (I found details of the missing family on ancestry.co in 2010) The mere list of names and dates was considered to be rather boring so I wrote a brief story of the family from the Bradenham days to chair-making in Lane End and the 3 furniture factories in High Wycombe. This was followed by a detailed history of the Princes Risborough factory (Whiteleaf Furniture) and a note on the Australian branch. The frontispiece to the book was the Golden Wedding of my gt.-grand-parents on Jan. 29th.1884. It took 9 months to finalize the book which gave details of some 560 people of our family who were born Goodearls or were their spouses.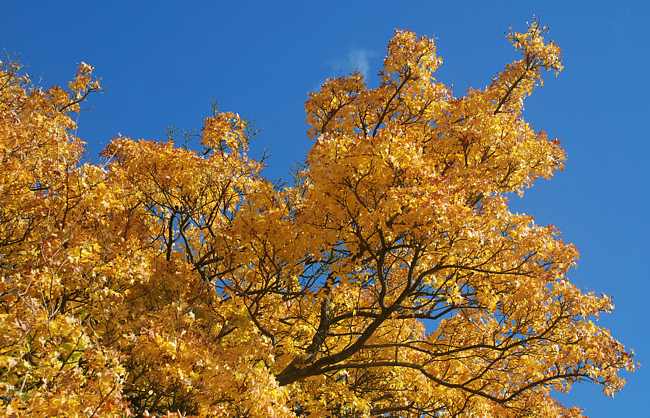 Autumn near Bradenham
On another visit to New England we met 15 cousins in one weekend and one showed us a Victorian photo album in which the 50 photos were each covered with an Edwardian post-card. On the back of one I saw 'Mendy St.High Wycombe' and on peeling off the card I recognized my grand-parents. Another gave a Bolton address for the photographer. Once I got the album home I steamed off the cards, carefully wiped off the glue and set about identifying the people. All the photos had the photographers' address and many had dates around 1885 so I managed to identify all the English people and half of the Americans.
After finding my grand-parents' grave in Wycombe cemetery I scanned the burial records at the Wycombe Municipal Office and found the dates of most of the missing Methodist family. So only Methodist marriages missing.
3 of the family were killed in WW1, one from Wycombe, one who emigrated from Wycombe to Canada and one from Boston. We got details of the Wycombe ones, and saw a memorial in Winthrop, Boston to the American. I wrote to US National Archives giving his regiment number and on payment of $15 received 40 pages giving the full details of his temporary burials in France, the correspondence between his father and a senator regarding repatriation, the schedule of the ship carrying his remains, the train schedule from New York to Boston and the meal allowance of $1-50c. paid to Corporal Canavan who escorted the casket.
At a visit to the High Wycombe Museum the curator produced 20 large box files containing the Title Deeds of the Goodearl furniture factories in Mendy St.and West End Road. These hundreds of documents went back to 1644, and fortunately the curator had summarized each one so I was able to follow the sites from meadow to terrace cottages and to the Factories. Someone else had indexed all the names mentioned. From the census returns I was able to follow the occupants of the cottages from building to demolition. One splendid find was the Will of my gt.grand-father William of 1887. He detailed bequests to his 10 sons and daughters and it ends "(I trust) that my desires may be carried out in peace and no lawyer be consulted".
The 1901 census for Bucks was available at the Chesham Library, but for the rest of the country I paid £5 for getting the details at Chorleywood Library.
As I was still stuck at 1745 with the marriage at Long Crendon, I started to look at the maternal lines and searched appropriate registers at Aylesbury. Special attention was paid to the Bedalls, Blackwells (where John signed John Hampden's Ship Money protest in 1636),Blick, Goss, Redrups (where Robert was vicar of Penn from 1596 until 1607) and Stratfords. There were several interesting Wills. On one visit I discovered the FHS computer, with its data-base, tucked away in a room near the coffee room. On entering 'Goodall' I found several entries for the Aylesbury area so, as 'marriages' were then almost complete, but baptisms and burials only partly, I ordered the print-out for marriages 1545-1745 and found many in Stone, Hartwell, Aylesbury and Dinton.
Stone and Hartwell had not then been transcribed, so a full study of the original registers took me back 4 generations to Michael, son of Robert, baptised at Stone on Aug.14th.1547. Against his burial entry in 1636 is the word 'senex' meaning 'a very old man'. 88 was a good age in those days. The average life-span of my 10 known direct male ancestors is 77.
While at Aylesbury I scanned through a hundred or so copies of the Bucks Free Press and found some 3/4 of the missing dates of Methodist marriages etc. WHERE ARE THE MARRIAGE AND BURIAL REGISTERS OF THE WYCOMBE METHODIST CIRCUIT ? I've been looking for them for 30 years.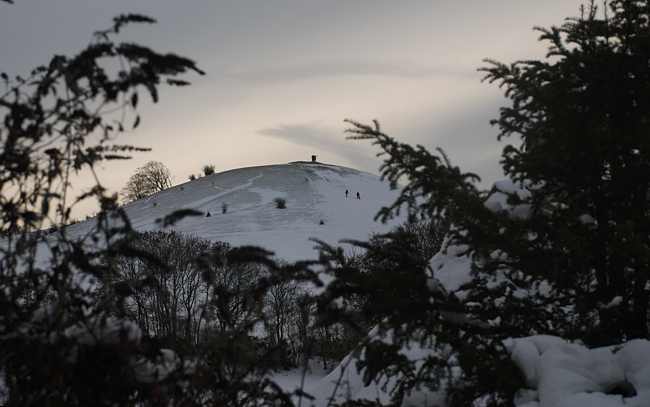 Sledging on Beacon Hill, Ellesborough
So now back to the difficult area before the general introduction of parish registers in 1538.
There is a Will of Robert of Stone who died in 1545, but my Robert - father of Michael - is not named, probably because he was the eldest son, named after his father, and had already inherited the farm. Robert (senr.) is in the Subsidy Roll of 1522 with property in Hartwell and Bishopstone. Why is this small hamlet so called? The Domesday Book gives 2 estates in Stone, both of 7 hides, one owned by Robert of Tosny and the other by the Bishop of Bayeux. So I think the Bishop's Stone became Bishopstone. A long search through the Manorial Rolls of Stone gave Goodalls over some 150 years and Robert (senr) appears in 1522. Before that John is there from 1475 - 1500 and is probably the father of Robert (senr.) while a Richard is there only once in 1475 and may be John's father. So I may have 3 generations before the Robert named in the 1547 parish register.
So in 30 years I have my direct paternal ancestors back some 500 years, nearly all done 'The Hard Way'.