Goodearl Chairmakers in the 19th Century.
29 Jan.1834 William and Deborah married at Bradenham Church. Bradenham Parish Register
It is uncertain where they lived immediately after marriage.
8 Dec 1834 Mary Ann was born in West Wycombe and christened 29th Jan 1835 where William's occupation is listed as 'chairmaker'. Wesleyan Records.
19 June 1836 George was born in High Wycombe. Census Returns.
Part of Lane End was originally in West Wycombe parish so they possibly lived in Lane End.
1838-1857 The other eleven children were all born in Lane End. Wesleyan Records & Census Returns.
24 Sept 1859 Henry married and lived in another house in Lane End.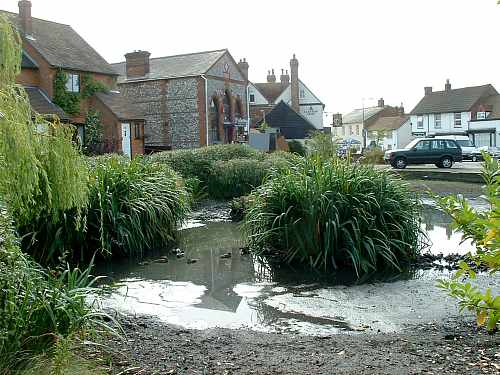 Beyond upper pond in Lane End is the original chapel, built in 1834,
which was attended by the Goodearl ancestors. The present church
was built in 1866 just before they moved to Wycombe.
By 1857 George was the only son not a chairmaker. He was a shoemaker and married in Bedford in 1857. He lived in Shoreditch until 1862, then in Liverpool until sometime between 1872 and 1877 when he emigrated to Boston and became the ancestor of several hundred American cousins.
Census 1861 & U.K.Births Massachussets Births.
7 Apr 1861 William, Henry, Richard, Alfred, Benjamin (11 yrs) & Arthur (9 yrs) were chairmakers, William jnr. (13 yrs) was an apprentice (unspecified trade) living in Shoreditch with brother George. Census 1861.
1864 Richard married in High Wycombe. (His wife had lived at Terriers) UK Marriages.
14 Apr 1868 Alfred married in High Wycombe. (Wife was born at Micklefield).Then lived in Wycombe after marriage - Temple End in June 1870. UK Marriages.
1868 Richard moved to High Wycombe and worked for M. Gibson for two years. Bucks Free Press 16 Nov 1894.
William moved to Wycombe with unmarried sons Benjamin and Arthur in the late sixties and William jnr had returned. While living in Lane End William was foreman for James Jarvis for several years and then foreman for Samuel Sears for over 25 yrs. Richard also worked for Sears and probably his brothers did as well. BFP 1894.
25 Mar 1870 William commenced business with Richard and three other sons in Dovecote Meadows near the extensive properties then occupied by Wycombe Steam Sawmill Co.(possibly Benj Lacey's factory)
I believe that William jnr was not very bright, while in 1870 Arthur was only 18 which is rather young for a business partner. Although Henry still lived in Lane End, people thought nothing of walking 4 1/2 miles to and from work and chapel on Sundays. As Henry, Richard and Benjamin subsequently had their own factories and Alfred had a business in Bolton, we can safely assume these were the 4 brothers in the 1870 firm.
The original factory was probably a traditional two storey building (brick and timber) similar to Thos. Gibbons' factory shown on page 14 of Ron Goodearl's 'High Wycombe in old Photographs'. The photo is dated circa 1890 and is said to be in Bellfield. From the shadows the factory appears to be to the south of the railway embankment and so could be the original family factory
Feb 1871 William jnr. married.
2 Apr 1871 In the 1871 Census all six sons are shown as chairmakers.
They lived as follows :-


William with younger sons Benjamin & Arthur at Dove House Mead (near factory)
Richard in Water Lane (which became Desborough Road)
Alfred and newly-wed brother, William. in Oxford Road
Henry was still at Lane End Common. Census 1871.
Late 1871 Henry moved to High Wycombe at about the time of his first wife's death. Death Records.
1873 Alfred moved to Bolton and William (jnr) joined him in 1875. Birth Records.
He is described in the 1891 census as a furniture dealer so presumably he was sent up north to sell the family furniture. His firm was known as Alfred Goodearl & Sons (Bolton).
1873 William Goodearl opened a chair factory in West End Road. Title Deeds
This later became Henry's factory and the original building is the background
to the Golden Wedding (1884) photo.
1875 By this time Benjamin and Arthur were married and nearly everyone had moved. Judson's High Wycombe Directory.


Henry was at Dove House Mead (formerly the family home).
Richard was still at Water Lane
Benjamin was at 11 Oxford Street (formerly Alfred's house)
Arthur was at 20 Mendy St.
William senior was at 4 West End Road
William jnr. at 3 Water Lane.
1881 On March 24th 1881 the Goodearls purchased another chair factory in Mendy Street about 400 yards away from the West End Road factory. Both factories were known as 'Goodearl & Sons', the sons being Henry, Richard and Benjamin. Title Deeds.
3 April 1881 Census


William - 4 West End Road: Chair Manufacturer employing 51 men & boys and 36 women & girls
Henry - 2 Park Villa: Chair- Manufacturer (partner)
Richard - 1 Park Villa: Chair Manufacturer & Wesleyan Preacher
Benjamin -- 37 West End Rd: Chair Manufacture
Arthur - 35 West End : Chairmaker. 1881 Census.
From this we see that Henry was a partner in his father's firm. Richard and Benjamin were the 'Brothers' and Arthur was at the bench.
Unfortunately the Bolton census enumerator forgot to visit the only house in Clive St Bolton where Alfred's family were living on July 1st 1881 (when a baby was born there) and in 1891. Probably William jnr. was also there and George Herbert (who subsequently emigrated to Australia) in about 1886. These do not appear anywhere else in England at the time of the census.
1885 On January 3rd 1885 when William was 73 years old 'Goodearl & Sons became 'Goodearl Brothers'. William retained a financial interest in both factories. He retired on Dec 31st 1884. Title Deeds.
Approx 1885 Sometime in the Eighties William built a block of terrace houses on the corner of West End Rd.and West End St. including 97 & 96 West End Rd. and 15 West End St.- the house on the corner where he lived with his wife Deborah. 1901 Census.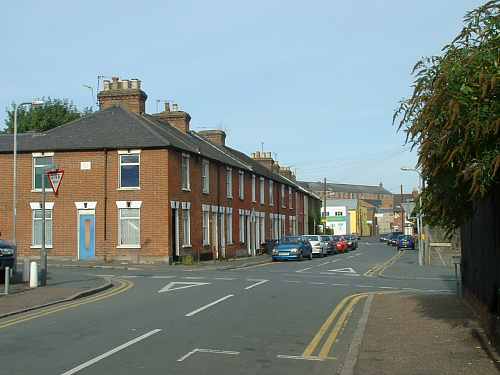 The junction of West End Road and West End Street.
Subsequently, presumably after the deaths of the old couple, Arthur lived there with his family and Arthur's daughter, Miriam (Cant) lived there until about 1967 when the house was condemned and demolished.
1889 On September 26th 1889, just before William died he and Benjamin sold their shares of the Mendy Street and West End Road factories to Henry and Richard. Both factories remained as 'Goodearl Brothers' - Clearly Benjamin had set up his own factory in West End Road/Desborough Road as is mentioned in Kelly's 1890 Directory. This was later known as Benjamin Goodearl & Sons.
Jan 21 1890 William senior died.

5 Apr 1891 Since the previous census everybody had moved again.


Deborah lived with her daughter,Ellen (Cripps) at 15 West End Street
Richard had moved to a larger house on Amersham Hill
Benjamin had returned to Desborough Road at No 12
while the other brothers lived in West End Road
- Henry at No. 17, William (Jnr) at No. 103 and Arthur at No. 97.
The three factory owners were described as Chair Manufacturers (Employer).
Arthur was a Foreman in a Chair Factory (which?)
William jnr.was a Chairmaker.
1891 Census.
Nov. 1894 When Richard became Mayor of High Wycombe in November 1894 the Bucks Free Press produced an article on him including the sentence "Through the industry and keen business capabilities ---- of the family business ---- developed into the six distinct branches we find today".
Now together with the establishments in Bolton and Sydney we know of only five locations. Where was the sixth? There is suggestion that Arthur ran a small factory at some time.The backyard of 15,West End St was quite large and there was a small non-domestic building at the east side of the yard which could have been a small factory.
1898 Soon after the division the West End Road factory was known as 'Henry Goodearl' and Mendy Street was known as 'Richard Goodearl'. However by the 1903 edition of Kelly the latter was 'Goodearl Brothers' again.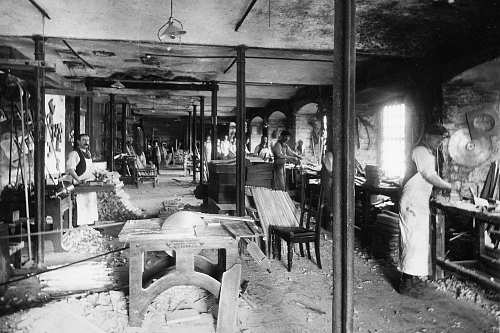 Early 20th Century Goodearl furniture production seen here in Ireland.

Mar.30th 1901 10 years after the 1891 Census everybody had moved again.
Henry and Richard were in Priory Avenue,
William Junior was in Isleworth,
Benjamin was at "Mostyn House", Desborough Road,
Arthur was at 15,West End Street,
William Henry (Henry's son) was in West Wycombe Road.

1907 The Mendy Street firm became incorporated as 'Goodearl Brothers Ltd.'. Risboro' History.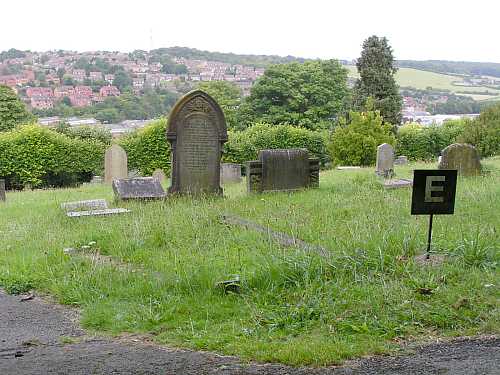 Goodearl Graves in High Wycombe Cemetery.
More photos
Sept. 2003
K.A.Goodearl
Chorleywood
U.K.
---