The Ancestors of Mary Blackwell
Our ancestor Mary Blackwell (William's mother) who married George Goodearl on October 22 1808 in Great Missenden was descended from a family of farmers in the adjacent Buckinghamshire villages of the Risboroughs, the Hampdens and the Kimbles. Their descendants spread to West Wycombe and other nearby villages.
The earliest dated references are in Little Hampden - a tiny hamlet with less than 70 inhabitants - with marriages of Dorothy in 1603 and Peter in 1607 and the burials of George in 1613 and William in 1617. Peter was George's son and had 3 daughters. George probably had a son George who, in turn, had a son George who had a son Richard born in 1639 (see reference below to George's will of 1613).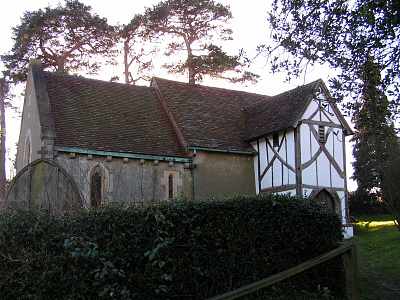 Little Hampden Church
This Richard may have married in Bradenham in 1667 and may have died in 1713 within a few weeks of Richard junior - probably his son. Dorothy may have been the daughter of either George or William.
Now the ancestor of virtually all known Blackwells in the area was a Richard whose two daughters were baptized in Little Hampden in 1619 and 1625 so it is fairly certain that this Richard came from the same Little Hampden family and that his father was either George or William.
The names of Richard and William were used in every generation of this family and together with Edward and John were the only names used for boys until Henry appeared in 1767. The girls were usually Elizabeth or Mary. Names were recycled after an infant died. To avoid confusion, the men will be referred to below as Richard I, William II etc.
| | | | |
| --- | --- | --- | --- |
| Richard I | c1593-1662 | William I | 1659-1741 |
| Richard II | c1622-1687 | William II | 1686-after 1740 |
| Richard III | 1655-1740 | William III | 1758-1834 |
| Richard IV | 1704-1752 | | |
| Richard V | 1713-1773? | | |
| Richard VI | c1728-1808 | | |
The details are :
Baptized
(parents)


Married
Buried
Richard I
c1593
(assumed to be 24
when married)


Mar 3 1617
in Ellesborough
to Margarette Clarke
1662
(will proved Apr 24 1662)
Richard II
c1622
( Richard I & Margarette
married in 1617)


c1649
to Mary Unknown
Nov 30 1687
Monks Risborough
(Richard senior)
Richard III
Feb 25 1655
Monks Risborough
(father Richard II)


c1680
to Mary Unknown
Feb 8 1740
Monks Risborough
(will proved Apr 19 1740)
Richard IV
Oct 23 1704
Great Kimble
(William I farmer & Rebecca)
(i) c1727 Smith ?
(ii) May 20 1742 in Chesham Bois
to Elizabeth Dorsett


Dec 9 1752
Monks Risborough
(will proved Dec 16 1752)
Richard V
Aug 26 1713
Monks Risborough
(father William II)
(i) c1732 Elizabeth
(ii) c1739 Hannah
(iii) ? Apr 25 1752 in West Wycombe
to Elizabeth Smith


May 27 1773
? Monks Risborough
Richard VI
c1728
(i) before 1752
to Mary Smith ?
(ii) c1783
to Elizabeth Unknown
(formerly farmer at Solinger)


Feb 2 1808
Monks Risborough
William I
June 20 1659
Monks Risborough
(father Richard II)
Feb 16 1687
in Penn
to Rebecca Bigg
Aug 3 1741
Monks Risborough
(Master of Solinger)
(will proved Oct 3 1741)


William II
Feb 13 1686
Monks Risborough
(Richard III & Mary)


c1712
to Elizabeth Unknown
After 1740
(named in will of Richard III 1740)
William III
Jan 17 1758
Great Kimble
(Richard V? & Elizabeth)
Apr 11 1776
in Monks Risborough to Ann Darvel
(William III was living in Great Kimble)
Nov 5 1834
in Bradenham
(where Mary lived from 1808)
WILLS
Wills exist for 4 of these - all farmers. There is also a will of George of Little Hampden who died in 1613, barely legible but shows he was a man of property. The wills give firm evidence of the names of children.
Richard I 1662 This names 25 beneficiaries including his son Richard II and grandsons Richard III and William I. Richard II as the only son inherited Solinger Farm in Great Kimble and land in Great Hampden.
Richard II His children were born in Monks Risborough between 1650 and 1659. They are the first Blackwells in the Monks Risborough parish register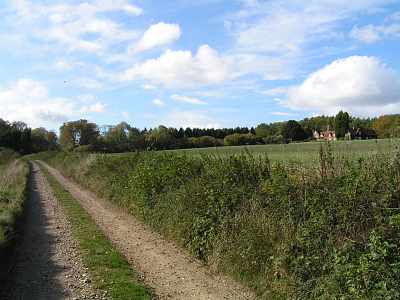 The track to Solinger Farm so it is probable that, as well as Solinger, he acquired Alscot (in Monks Risborough) soon after his marriage to Mary in c1649. Their sons Richard III and William I and their descendants were based at Alscot and Solinger respectively and so were in Monks Risborough and Great Kimble parishes but most burials were at Monks Risborough. Monks Risborough and Great Kimble churches are just over a mile apart.
Richard III of Alscot 1740 This will refers to 3 sons, 4 daughters and 6 grand-children - the children of his son William II. There is no reference to his eldest son Richard (born in 1681) who must therefore have died, possibly in 1717, before the will was written in 1734. Alscot went to his youngest son John, the middle son Edward had a bequest, while, surprisingly, the eldest son William II only got a bequest of £10 per year although his 6 children got £40 each.
William I of Solinger 1741 As well as Solinger he had adjacent farms at Longdown and Green Hailey and properties in Little Hampden, Monks Risborough, Little Kimble and Ellesborough. Solinger was left to his wife Rebecca and the other properties between his elder son John (including Little Hampden) and Richard IV who got Longdown. John, in his will of 1744 left Little Hampden to his eldest son - another William! William I was church-warden or Overseer of the Poor at Great Kimble between 1702 and 1720.
Richard IV of Solinger 1752 He must have taken over Solinger after the death of his mother Rebecca and he left Longdown to his eldest son Richard VI. We have no record of Richard IV between his baptism in 1704 and what must have been his second marriage in 1742 to Elizabeth Dorsett. Richard VI was over 21 when he inherited Longdown in 1752 but his brothers William and John were under 21 then. There is no mention of who got Solinger.

Richard VI's wife is referred to as Mary "whose father Henry Smith is Richard IV's brother-in -law" and who inherits Green Hailey jointly with Richard IV's other brother-in-law John Cock. Now Richard IV's other sister married John Montague so the brother-in-law must be Richard IV's wife's brother, so Richard IV's first wife and mother of his 3 sons appears to have been Unknown Smith. Richard IV was church-warden and Overseer for the Poor at Great Kimble from 1736-1746.
So far virtually everything, except the wives' names, is confirmed by wills. We now have to check the remaining people - William II born 1686, Richard IV born 1704, Richard V born c1728 and William III - Mary's father - born 1758.

Longdown Farm below Pulpit Hill
William II was only left a small annuity in his father's will of 1740, but his 6 children received bequests. Maybe he was infirm and not capable of running Alscot. He was known as William of West Wycombe when his wife Elizabeth died in 1729. We do not have his date of death as the Bucks Family History Society data-base for West Wycombe does not cover burials before 1792.
William III was Mary's father who married Ann Darvel on Apr 11 1776. There were two Williams baptized in the area in 1758, but the son of Edward and Hester was not mentioned in Edward's will written in 1774 so must have died before then. So William III's parents were Richard and Elizabeth and he was baptized on Jan 17 1758 in Great Kimble.

A Richard Blackwell of Great Kimble married Elizabeth Smith of Monks Risborough at West Wycombe on Apr 25 1752, but which Richard ? We have 2 possible candidates :- Richard V born 1713 and Richard VI born c1728, unless it was another unrecorded Richard. Now Richard VI's wife was referred to in Richard IV's will of 1752 as Mary and it is shown above that she might have been Mary Smith. Could a mistake have been made in the will ? Doubtful !

A Richard buried in Monks Risborough on Feb 2 1808 is described as "formerly farmer at Solinger". Richard VI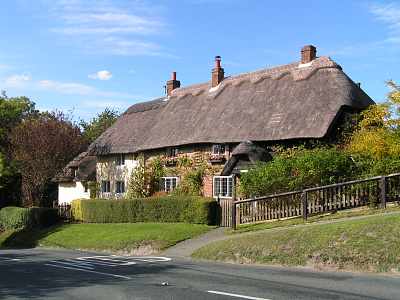 Cottages near Ellesborough Church inherited Longdown and possibly Solinger and would have been about 80 in 1808 whereas Richard V would have been an unlikely 95. So we can assume that Richard VI died in retirement in 1808.

Confusion arises at the burial of Elizabeth of Monks Risborough on Apr 10 1805 as she is described as "wife of Richard of Upper Cadsden, formerly of Solinger Farm". Upper Cadsden was owned by Richard IV which confirms our assumption that Richard VI was the son of Richard IV, but why Elizabeth ? His second wife ?

An unidentified Mary was buried in Monks Risborough on Jan 1 1783 so this could be his first wife and Elizabeth his second. Richard VI was church-warden or Overseer at Great Kimble from 1753-1763.
Richard V son of William II and Elizabeth was baptized at Monks Risborough on Aug 26 1713. Richard V and Elizabeth had 4 children in Monks Risborough until Elizabeth was buried on the same day in 1739 as her 3rd son John. Baby Elizabeth died at 3 months old leaving the 2 boys Richard (of course) and William.

The next 3 Monks Risborough Blackwell baptisms are children of Richard and Hannah. The first, Richard (of course) was baptized on Mar 14 1740 exactly a year after Elizabeth died, so Richard V must have been in a hurry.

This seems to indicate that the first son Richard had died before the second was born. The other two were Elizabeths who died young. Hannah died in Nov 1750.

So did Richard V get married again to Elizabeth in 1752 ? He was only 38 at the time so remarriage is very likely. The eldest son of Richard and Elizabeth was named William not Richard as the earlier Richard was 17 at the time and probably unmarried whereas the previous William was married to Mary Smith (yes,another!) so his name could be recycled.

Their second son broke with tradition and was called Henry. (there was a Henry Smith in a will of 1752)

Great Kimble Church Their daughters Rebecca and Mary married but the 3 Elizabeths died in infancy. That name was unlucky as all 6 of that family died young. Richard V appears to have died in 1773.

It therefore appears that Mary's grand-father was Richard V and not Richard VI.

A further clue may come from the marriage registers of the numerous children of William III and Henry.

In 1754 a new form of printed marriage register was introduced in which the couple and witnesses signed their names or marked a cross if illiterate. Richard VI was a farmer and church-warden and was presumably quite prosperous and literate. On the other hand, Richard V had a £40 bequest and no expectations from his £10 a year father. Relative poverty produces illiteracy.

For some reason Monks Risborough didn't seem to use the new register until 1780 so William III and Ann did not sign. However all 4 of their children (including Mary) signed with a cross.

Henry also used a cross but we have no marriage records of the 4 of his 12 children that survived infancy.
We can almost certainly accept Mary's ancestors as being from the Alscot branch of the family rather than from Solinger.


                            ANCESTORS
		    Richard I married Margarette Clarke	1617
                                |
		    Richard II married Mary (Unknown)	c1649
	________________________|________________________________
	|       (Alscot)				        |   (Solinger)
Richard III married Mary (Unknown)	c1680		William I married Rebecca Bigg 1687
        |                                                       |
William II married Elizabeth (Unknown)	c1712		Richard IV married  ? Smith        c1727
        |                                                       |
Richard V married Elizabeth Smith	1752	        Richard VI m.(1) Mary Smith before 1752
William III married Ann Darvel		1776
        |
Mary married George Goodearl		1808
        |
William Goodearl m. Deborah Stratford	1834



Elizabeth Smith's parents were George and Eleanor Smith. She was baptized at West Wycombe on Oct 17 1725

Ann Darvel was baptized on Oct 1 1759, parents William Darvel and Ann Smith,married on July 26 1753

William Darvel was baptized on April 2 1727, son of William Darvel
Ann Smith was baptized on Sept 25 1727, daughter of Francis and Mary Smith



Jan. 2005
K.A.Goodearl
Chorleywood
U.K.